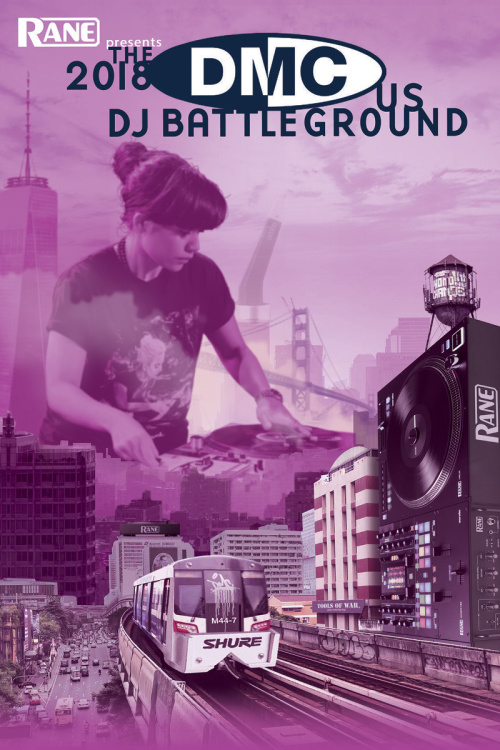 Sunday, Aug 5, 2018 @ 5:00pm
2018 DMC US Finals National DJ Battle
Event Description
2018 DMC US Finals National DJ Battle presented by Rane and Mile High DJ Supply
Established in 1985, DMC DJ Battles are the most legendary, longest running and prestigious turntablist battles in the World.From the DMC stage, legends are made.Some of the music industry's best DJs are DMC World Champions including DJ Craze, Mix Master Mike, DJ Qbert, A-Trak, Roc Raida (RIP), DJ Cash Money, and Denver's own DJ Chris Karns!
Sunday, August 5th, for the first time ever, the nation's biggest most legendary DJ Battle, The DMC US DJ Championship, comes to Colorado! The event will take place at Temple Nightclub Denver, located at 1136 Broadway, between 12th & 11th Street, and will feature an all-star line up of World DJ Champion performers!
2018 DMC Regional DJ Champions competing include:
DJ FlipFlop - Winnetka, CA
SlasherKut - Kapolei, HI
DJ As-One - Bethesda, MD
DJ Throdown - Washington DC
DJ Kool Flash - Silver Spring, MD
DJ Remedy - Baltimore, MD
DJ MoTo - Asheville, NC
DJ Tums - Dallas, TX
Knockers - Miami, FL
2017 DMC US Champion: DJ Perly - Poughkeepsie NY is invited to defend her title!
Each regional champion will perform a 6 minute showcase routine. Our panel of champion battle veteran judges will determine who wins the national title, a Rane Seventy-Two mixer and other major prizes PLUS a trip to London to represent USA at the DMC World DJ Championships on Oct. 7th at KoKo.
Please visit www.dmcdjchamps.com and www.dmcworld.com for more info + battles across the World.
Follow DMC USA DJ Battles at:
www.youtube.com/TheOFFICIALDMCUSA
All Ages are welcome, 21+ with ID to indulge.
**SPECIAL TEMPLE EVENT**