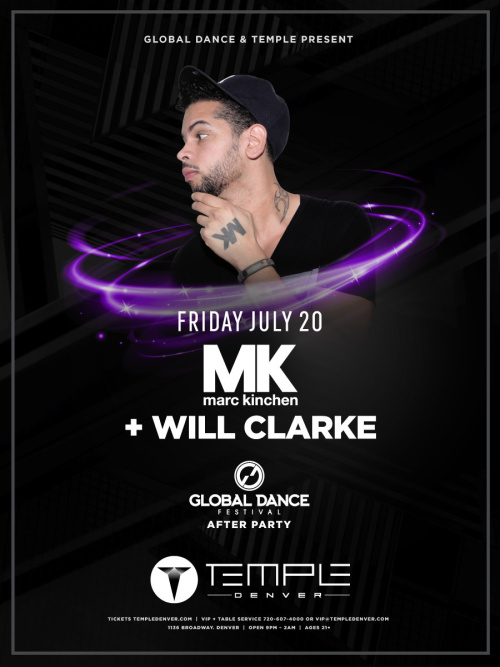 Friday, Jul 20, 2018 @ 9:00pm
Global Dance After Party: MK & WILL CLARKE
Event Description
Global Dance Festival Week & Temple Denver Present
GLOBAL DANCE FESTIVAL AFTER PARTY
MK & WILL CLARKE
Global Dance Festival Colorado is the largest annual dance music event in the Rocky Mountains. GDF features the greatest electronic music artists of our generation.
MK: MK (Marc Kinchen) who has performed various dates in the States including EDC in Vegas, the main stage at HARD Summer earlier this year and will be featured at the Imagine Festival in Atlanta as well. Add all this to his in-demand remixes for the artists such as Rihanna, London Grammar, Solardo and Clean Bandit, alongside his original productions, MK has swiftly become one of the world's most in-demand producers in dance music. Several of his earlier releases including "Always" "Burning" and "Push The Feeling On" were instrumental in first helping dance music cross over into the mainstream, while his 2014 remix of Wankelmut & Emma Louise's "My Head Is A Jungle" has amassed over 45 million Spotify streams.His latest single "17" has served as a highlight to a great year for MK, where he continues to flourish overseas and break new boundaries in North America. The track has been streamed on Spotify over 31 million times. The British have always had an affinity for quality house music, and they have embraced this MK song as well. The U.K. audience has catapulted "17" into Top 10 slots across many prominent charts including BBC Radio, Shazam and iTunes. All over Europe, "17" has received steady radio play from Denmark's The Voice to Belgium's Top Radio, plus breaking into Ireland's Top 10.
WILL CLARKE: Bristol is renowned to be a generator of exciting fresh talent in all aspects of art. The fact that the bearded booty-cuddling machine, Will Clarke, is from this part of the world is no surprise to anyone. Two years after Will's 'Big Booty' was being played in every club around the globe from the likes of Jamie Jones, Seth Troller, Eats Everything and MK (just to name a few), Will has rocketed to great heights in the house and techno scene. Will has become a family member in the DIRTYBIRD flock, and has released a plethora of chart topping records such as 'The Goog', 'Can You Funk', also collaborations with Justin Martin with their track 'Back To The Jungle' and a collaboration with Shiba San, 'Give It To Me'. Staying on the DIRTYBIRD theme, Will has just released his Booty Percolatin' EP (which if you haven't heard yet, you are missing out). Alongside Will's original releases, he has also churned out remixes for Riva Starr, Lee Foss's label Emerald City, Hot Natured, Azari & III just to name a few.
Temple Nightclub is a venue for artists, by artists, offering a nightlife experience that is unrivaled in the Mile High region. Temple Denver features awe-inspiring, fully immersive state of the art lighting and visuals, to a thundering custom sound system, paired with world-class talent and theatrical production.
Temple is a 21+ nightclub experience