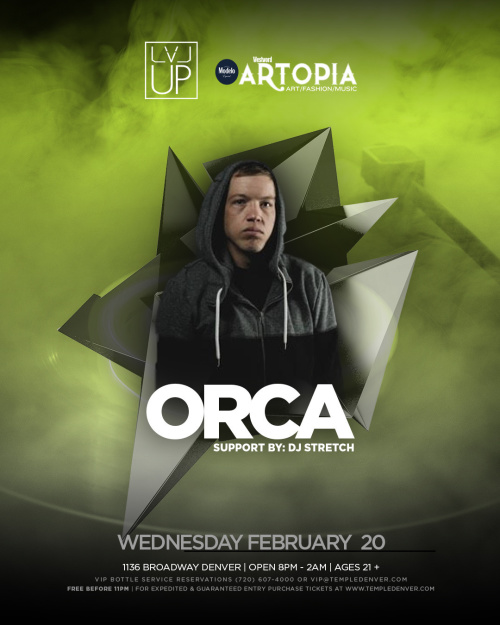 Wednesday, Feb 20, 2019 @ 8:00pm
LVL Up Wednesdays: Artopia Pre-Party Edition
Event Description
Temple Presents LVL Up Wednesdays: Artopia Pre-Party Edition! 
Join us at 8 p.m. where we'll have a special performance by The Bboy Factory, discounted Artopia tickets for sale, drinks from Modelo and more! 
Featuring music from Artopia artist, DJ Strech and ORCA
Artopia is coming on Friday, March 1, but we're kicking off the party early at LVL Up Wednesdays: Artopia Edition.
2 For 1 Absolute for the ladies before 11:30pm 
Beer Pong 
LVL Up Wednesday's brings the best in Open Format, Hip Hop, R&B, House and Top 40, all mashed up to create an experience unrivaled in the Mile High region. Experience LVL, a glowing geometric room that features floor to ceiling lighting with a booming a Funktion-One sound system. LVL features an intimate dance floor with 9 Bottle Service Tables for the best VIP experience in Denver. 
For VIP Bottle Service Reservations call (720) 607-4000 or email [email protected] 
Temple is a 21+ nightclub experience.