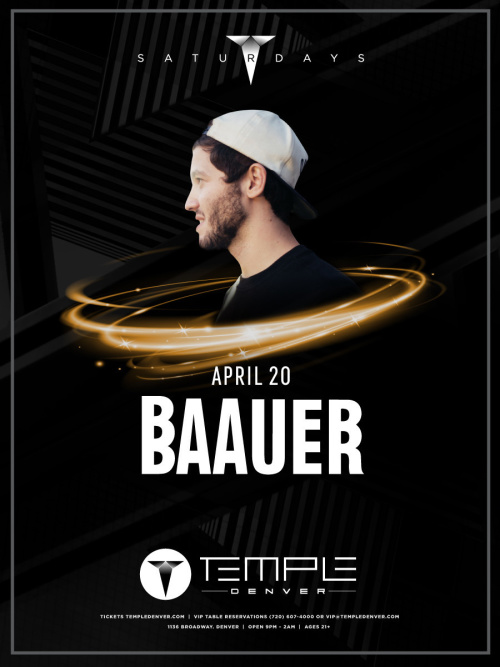 Saturday, Apr 20, 2019 @ 9:00pm
Baauer
Event Description
Temple Presents Baauer
Though NYC club-killer Harry Rodrigues aka Baauer hasn't been on the scene long, the amount of buzz the 24-year-old has been able to build in such a short period of time is second to none, going from SoundCloud's best kept secret to the world's new poster boy for menacing sub-bass styl- ings almost overnight. As a producer, Baauer's impeccable track record has propelled him to become one of the most glorified and respected in his field, cultivating a supremely authentic style and sound that yields stadium-sized responses throughout the globe. With a focus on sensationalizing the seemingly insignificant, Baauer melds dance floor traditions with hip- hop tendencies, finding a creative sweet spot between the tw that gets redefined with each new track he creates.
Temple Nightclub Saturday's is a venue for artists, by artists, offering a nightlife experience that is unrivaled in the Mile High region. Temple Denver features awe-inspiring, fully immersive state of the art lighting and visuals, to a thundering custom sound system, paired with world-class talent and theatrical production.
Temple is a 21+ nightclub experience.