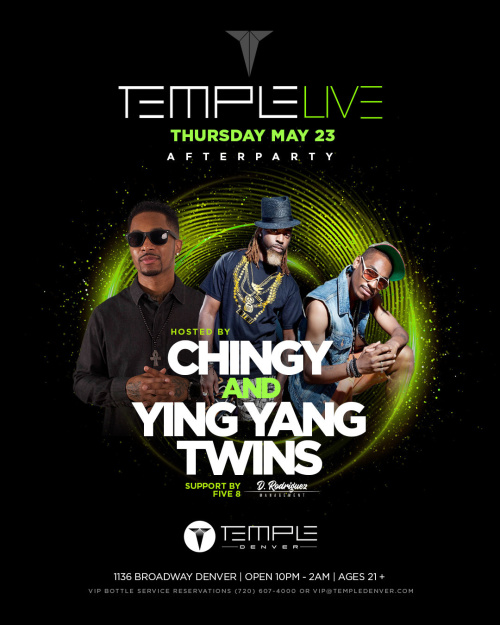 Thursday, May 23, 2019 @ 10:00pm
Chingy & Yin Yang Twins
Event Description
Temple Live Presents Chingy & Yin Yang Twins 
Support By: Five8
About Chingy:
Kicking off his career in 2003 with the massive hit "Right Thurr," St. Louis rapper Chingy spent two solid years in the limelight, releasing two platinum-selling albums while becoming a household name thanks to some television appearances and movie roles. Born Howard Bailey, Jr. on March 9, 1980, he began writing rhymes at the age of 10 and began rapping under the name of "H Thugs" during his teen years. Renamed Chingy after a slang term for a looking wealthy, he signed with Fo-Reel Entertainment, an artist management firm with local heroes Nelly and St. Lunatics on the roster. While on tour with Nelly in 2002, he met rapper and Disturbing Tha Peace labelhead Ludacris. He would sign to DTP in 2003 and release "Right Thurr" on the label that same year. With Chingy's slow drawl and laid-back swagger, the track became the anthem for hot summer nights, peaking at number two on Billboard's Hot 100 while topping the magazine's Hot Rap Tracks chart. Released in July, his debut album Jackpot spawned two additional Top Five hits, "Holidae In" with Ludacris and Snoop Dogg, plus "One Call Away" with J/Weav. A monetary dispute between the rapper and DTP would result in a supposed "beef" with Ludacris -- Luda issued some terse words through a press release while Chingy claimed there was no animosity -- and would end with the formation of Chingy's own Capitol imprint Slot-A-Lot. Featuring the singles "Balla Baby" and "Don't Worry," the platinum-selling Powerballin' would become his first album for the label in 2004. The year 2005 found him appearing on television's Punk'd plus The George Lopez show and a year later he would land a role in Scary Movie 4. His 2006 single, "Pullin' Me Back," would find him back on top on the Hot Rap Tracks chart and help Hoodstar debut at number eight on the album charts, but the follow-up single "Dem Jeans" fared worse although the album did go gold. Unhappy with the way he felt Capitol was promoting their urban artists, Chingy jumped ship and went back to DTP which was by-then a part of the Def Jam family. Hate It or Love It would arrive on the label in 2007 but its debut at number 84 on the album chart would also become its highest position. In 2009 he announced he was working on a new album for release that year.
About Yin Yang Twins:
Atlanta's party rap duo Ying Yang Twins scored a hit with the single "Whistle While You Twurk," which received nationwide airplay on urban and crossover radio stations. Their full-length debut album, Thug Walkin', appeared later in 2000. Alley...Return of the Ying Yang Twins from 2002 sold well down South, but it was the duo's 2003 team-up with Lil Jon -- "the King of Crunk" -- that brought them nationwide success. The party anthem "Salt Shaker" was a massive club and radio hit and soon had the TVT label chasing the duo to sign. They did, and their first album for the label, Me & My Brother, yielded two more crunk hits, "What's Happnin!" and "Naggin'." The same year the duo appeared on Britney Spears' album In the Zone and her television special of the same name. In 2004, TVT released the remix-filled My Brother & Me with a bonus DVD of the group's videos. USA (United State of Atlanta) appeared in the summer of 2005 as its single "Wait (The Whisper Song)" was dominating urban radio. Chemically Imbalanced followed in 2006.
VIP Bottle Service Options Available
Temple is a 21+ nightclub experience