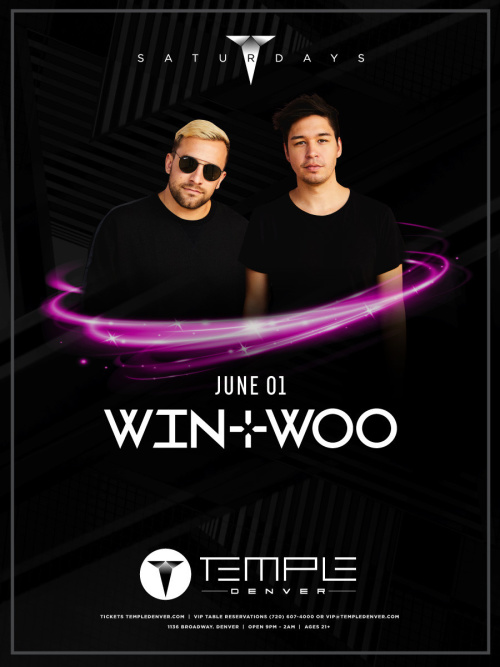 Saturday, Jun 1, 2019 @ 9:00pm
Win + Woo
Event Description
Temple Presents Win + Woo!
Doors: $20
A duo from Chicago, IL, Win and Woo is comprised of longtime friends Nick Winholt and Austin Woo. Their eclectic style is pop inspired, fused with a heavy blend of melodies & driving bass lines that work seamlessly with intricate percussion. The two draw inspiration from those push the limits of their creativity and they plan to do just that. Win and Woo found early streaming success by having a slew of hit remixes, such as their take on Bryce Fox's 'Burn Fast' which now has over 10 million Spotify streams. September 2016, the duo released their first single "Recognize" Feat. Ashe. The song received recognition immediately by landing in Spotify's flagship playlist 'New Music Friday', and getting National television airtime during NBC's Sunday Night Football. A recent single titled "Chicago" had reached over 3 million plays just under its first year, in addition to being added to Starbuck's playlist rotation in stores around the country. Win and Woo also had tracks featured in commercial syncs such the Blue Moon "Shine Brighter" campaign and a Toyota music spotlight commercial.
Temple Nightclub is a 21+ experience.