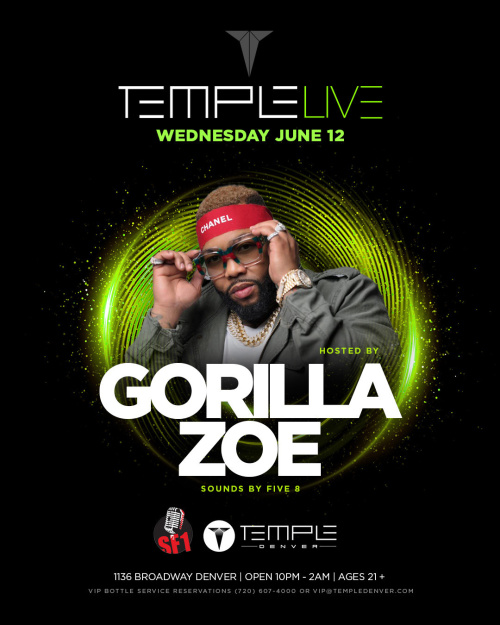 Wednesday, Jun 12, 2019 @ 10:00pm
Gorilla Zoe
Event Description
Temple Live Presents Gorilla Zoe
Gorilla Zoe is hosting TEMPLE LIVE on Wed., June 12 for an intimate performance of his hit songs in a nightclub setting. Let's pop bottles and turn up on a Wednesday! 
Come get down on the dance floor with sounds by DJ Five 8 and emcee SF1. Arrive early because we will be giving away prizes throughout the night! 
Gorilla Zoe is an Atlanta rapper with a raspy voice, melodic flow, simple rhymes, and cocaine-fun lyrical focus. Gorilla Zoe's first taste of commercial success came with "Coffee Shop," a 2007 hit by labelmate Yung Joc. His debut single as a solo artist, "Hood Ni**a," followed shortly thereafter, along with the accompanying debut album Welcome to the Zoo. Gorilla Zoe's first album as Jeezy's replacement in Boyz N Da Hood, Back Up n da Chevy, was released next, also in 2007. The album spawned a series of singles, including "Everybody Know Me" and "We Ready." A collaborative single with Lil Wayne called "Lost" landed in late 2008, while the full-length Don't Feed da Animals followed in March 2009, debuting atop the rap charts and cracking the Top Ten of the Billboard 200. In 2010, he released 28 different mixtapes, one per day for all of February, along with the single "Just Like My Chevy." His club-oriented effort King Kong was released in 2011. Mixtapes such as Recovery and Raised in the Jungle followed in 2015. He issued a sequel to Don't Feed da Animals in 2017.
VIP Bottle Service Options Available
Temple is a 21+ nightclub experience