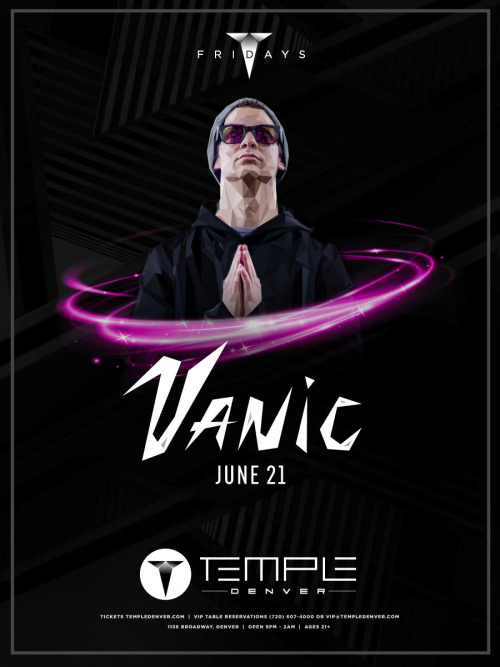 Friday, Jun 21, 2019 @ 9:00pm
Vanic
Event Description
Temple Presents Vanic

Vancouver-based producer Vanic (aka Jesse Hughes) first caught listeners' attention with a string of well-received remixes -- including his reworking of machineheart's "Circles" -- before releasing his own trap- and house-influenced tracks. Hughes began playing piano when he was three but grew bored with the confines of his classical training, and soon dabbled in jazz and ragtime piano while listening to metal and happy hardcore. In high school, he grew more intrigued with electronic music and began making his own productions. He started by remixing well-known tracks, and released his debut as Vanic -- a version of Taylor Swift's "I Knew You Were Trouble" -- in 2012. His career gained momentum with remixes of Birdy's "Skinny Love" and machineheart's "Circles," a pair of 2014 tracks that earned him millions of streams. Though Hughes attended business school at Simon Fraser University, he dropped out of the program to focus on music and saved up to build his own studio. More viral remixes of artists such as Lana Del Rey, Chvrches, Major Lazer, and the Chainsmokers followed, and Vanic signed a deal with Sony's Disruptor Records in 2016. That March, Hughes' first original track, "Samurai," was released; Good Things, a collection of some of his most popular remixes, arrived at the end of the year. Vanic began 2017 with a pair of original singles: "Too Soon" was released in January, while "Staring at the Sun" followed in June.
Temple Nightclub Friday's is a venue for artists, by artists, offering a nightlife experience that is unrivaled in the Mile High region. Temple Denver features awe-inspiring, fully immersive state of the art lighting and visuals, to a thundering custom sound system, paired with world-class talent and theatrical production.
Temple is a 21+ nightclub experience.