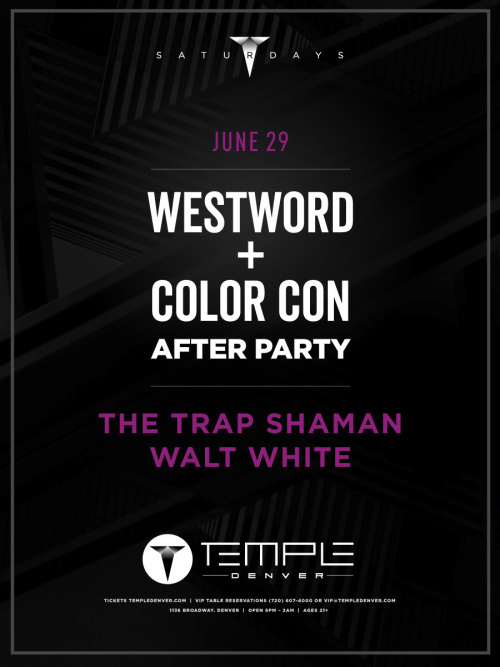 Saturday, Jun 29, 2019 @ 9:00pm
Westword Music Shows & COLORCON After Party
Event Description
Temple presents a weekend wrap up celebration!
We can't wait to wrap up the amazing weekend happening on our block!
COLORCON is an art & music event taking place 6-9pm, June 28 in our alley way featuring live mural painting from Damon Soule, NoMe Edonna & Colorado local artists! 
Westword Music Showcase is a festival happening from 12-10pm, June 29 featuring an incredible and diverse music lineup! Mirus Gallery will be open from 12-7pm with a curated lineup from Westword Music Showcase, then come to Temple later for a celebration wrapping up these great events!
Temple Nightclub Saturday's is a venue for artists, by artists, offering a nightlife experience that is unrivaled in the Mile High region. Temple Denver features awe-inspiring, fully immersive state of the art lighting and visuals, to a thundering custom sound system, paired with world-class talent and theatrical production.
Temple is a 21+ nightclub experience.