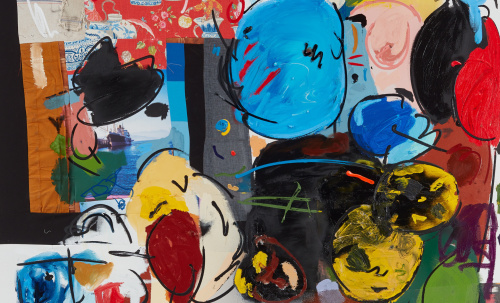 Friday, Jul 12, 2019 @ 7:00pm
"Seven Days Too Long" - Group Exhibition in collaboration with Fluorescent Smogg
Event Description
Mirus Gallery Denver is pleased to present a group exhibition in collaboration with Fluorescent Smogg titled 'Seven Days Too Long'. Participating artists are Jonnie Cheatwood, Taku Obata, Sat One, Sickboy, Broken Fingaz, George Morton Clarke and Mars1. Each artist will all be exhibiting new work as well as releasing new limited editions for the exhibition.  
Opening reception will be Friday, July 12th, VIP/Press Opening 6-7 PM then general admission from 7-10 pm, and the exhibition is free and open to the public for viewing through August 3rd, 2019.
About the Exhibition:  'Seven Days Too Long'
'A show about the insufferability of patience for passionate moments' 
Seven artists, seven originals, seven editions
Seven Days Too Long is an exhibition curated by Fluorescent Smogg in association with Mirus Gallery, Denver, This will be Fluorescent Smogg's inaugural group exhibition in America. Featuring artists: Jonnie Cheatwood, Taku Obata, Sat One, Sickboy, Broken Fingaz, George Morton Clarke and Mars1.
Seven days of the week, seven seas, seven continents, seven colours of the rainbow, seven brides for seven brothers, et cetera. Now lucky number seven is really outshining itself, with a groundbreaking new group show brought to Mirus Gallery, Denver, by the UK-based editions house Fluorescent Smogg.
Comprising seven artists, seven originals, seven editions and a containership-load of talent, this show will draw on Fluorescent Smogg's technical know-how and unrivalled production capability to bring disciplines as diverse as painting, monotyping, screenprinting, woodblock printing and the ancient art of bronze casting under one roof.
The brief for exhibiting artists was to submit one large-format painting that pushes their capabilities to the limit, along with one bespoke edition. The result? Seven Days Too Long has vitality and ingenuity like no other group show you'll see this year: a dazzling display of skills, tools, techniques and philosophies, an immersive traverse between the futuristic sculpture of Japan's Taku Obata or the abstract, deep-colour creations of Venezuela's Sat One. 
Fluorescent Smogg, directed by acclaimed UK artist Sickboy, inspired all seven exhibitors to dream big before helping them delineate these dreams in 2D or 3D — moving from the bronze foundry to the brass works to the model-making studio to make it happen. While Mirus Gallery, championing new movements in US contemporary arts, with its emphasis on artistic process as much as result, proved an ideal partner. 
Now these two innovative institutions are out to prove that lucky number seven still has it — bringing us a beautiful clash of minds, worlds, colours and capabilities, and a show that doesn't simply celebrate true artists' craftsmanship, but helps to sustain it for generations to come. 
Curatorial:  Fluorescent Smogg
Fluorescent Smogg was set up by UK artist Sickboy to be the finest quality art rendering, limited edition creating and art show production house in its field. In five short years he has achieved this by bringing together a dream team of talent and expertise that he has encountered over 20 years in the world of Urban Contemporary art.
A community of fine craftsmen, artist technicians, production partners, product designers and multimedia creatives at the top of their game are engaged in a Fluorescent Smogg project, wherever it may be on the globe. With their production bases having been in Barcelona, Bristol and London, and a history of hit international events, they are renowned for always delivering immaculate quality art and groundbreaking immersive shows, worldwide.
In 2014, Studio James Brazil partnered with Sickboy to curate and develop the Barcelona project space, artist residency and provide creative direction whilst leading design-production of special projects and installations.