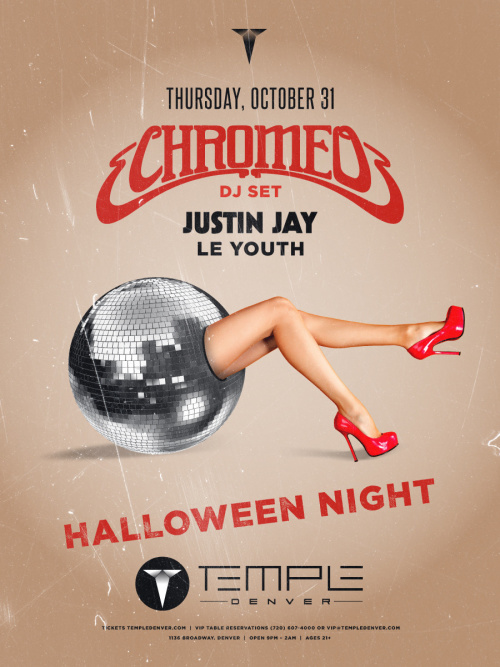 Thursday, Oct 31, 2019 @ 9:00pm
Chromeo
Event Description
Temple Presents Chromeo
Chromeo
With a love of talkboxes, vintage drum machines, and gleamingly plastic synth tones, Montreal electro-funk duo Chromeo developed a sound that looked to the deepest echelon of '80s funk and radio R&B to develop their sound. While wearing the influence of Zapp, Prince, and even Hall & Oates on their sleeve, their style would grow more refined as the years went on, with production getting more detailed as their songwriting became more nuanced. The band's homage to the greats of the dancefloor and its unbridled worship of pop found its summit on their fourth album, 2014's White Women. By then the group had fine-tuned their formula and also opened up their creative world to guest vocalists and producers, maximizing their mainstream accessibility and resulting in their highest-charting release.
Justin Jay
Launching his music career from his freshman dorm room, the Los Angeles-based 22-year-old producer/DJ, Justin Jay, has already seen success that extends well beyond his years, but he is surely not resting on any laurels as he further refines his expertise as a true artist. As the youngest member of the dirtybird family, Justin has seen support by the likes of Claude VonStroke, Jamie Jones, Disclosure, Tiga, and George Fitzgerald, among many others, while also being recognized as a "Future Star" by trusted tastemakers, such as Pete Tong, and fans alike. At the heart of his music, Justin Jay manifests his soul, funk, and jazz roots in a nostalgic, yet forward-thinking manner that yields his unmistakable brand of house music, which has won him releases on labels such as dirtybird, Culprit, Southern Fried Records, & Pets Recordings. His productions have also put him in the spotlight on club and festival stages across the globe, from LA's HARD Summer to the dirtybird residency at Sankeys Ibiza, where he held crowds in his grasp, taking fans on a rollercoaster of energy and music ranging from deep house to breakbeat to techno. Justin Jay is set to continue building his career one step at a time, not taking any shortcuts and remaining humble, earning his place as a leader in dance music.
Le Youth
Wes James , better known as Le Youth , is the slightly enigmatic musician/DJ/producer from Los Angeles, CA. From a young musician with numerous monikers under his belt, in the chaos of Hollywood, the Le Youth project was born bringing to life a seamless blend of breezy California vibes with a twist of European flair and an air of mystery. Bridging the gap between underground and mainstream, indie and pop, Le Youth has proven himself a dynamic force in the music and entertainment world.
Temple Nightclub is a venue for artists, by artists, offering a nightlife experience that is unrivaled in the Mile High region. Temple Denver features awe-inspiring, fully immersive state of the art lighting and visuals, to a thundering custom sound system, paired with world-class talent and theatrical production.
Temple is a 21+ nightclub experience.