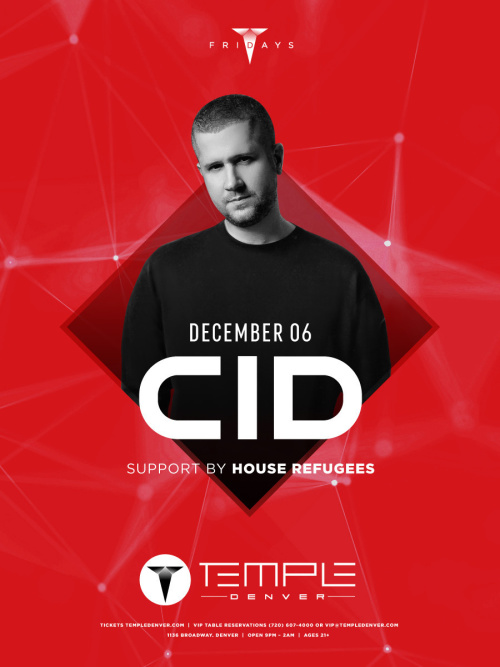 Friday, Dec 6, 2019 @ 9:00am
CID
Event Description
Temple presents CID
A successful DJ who has gone on to become an in-demand producer, CID (aka Carlos Cid) was born in Queens, New York. He developed a passion for house and dance music at an early age; when he was 11, he was regularly hopping the bus to record stores where he could listen to the latest dance singles and chat with DJs who were stocking up on new material. CID was just 12 years old when he started DJ'ing himself, and as he matured, he developed an estimable reputation, spinning at major events in the New York area. In time, CID was performing across the country and in Europe as he began making inroads into producing and remixing. In 2012, CID earned a Grammy Award for his work on Cedric Gervais' remix of Lana Del Rey's "Summertime Sadness," and the success of the track boosted his profile. Soon CID was collaborating with artists such as Kaskade, Sharam, and Tiësto, both in the studio and on-stage. CID next began recording and releasing material under his own name. With such successes as "Us" (with Kaskade), "Sweet Memories" (another collaboration with Kaskade), "Together," and "Secrets" (with Conrad Sewell), 2016 proved to be a breakout year for him.
Temple Nightclub is a venue for artists, by artists, offering a nightlife experience that is unrivaled in the Mile High region. Temple Denver features awe-inspiring, fully immersive state of the art lighting and visuals, to a thundering custom sound system, paired with world-class talent and theatrical production.
Temple is a 21+ nightclub experience.