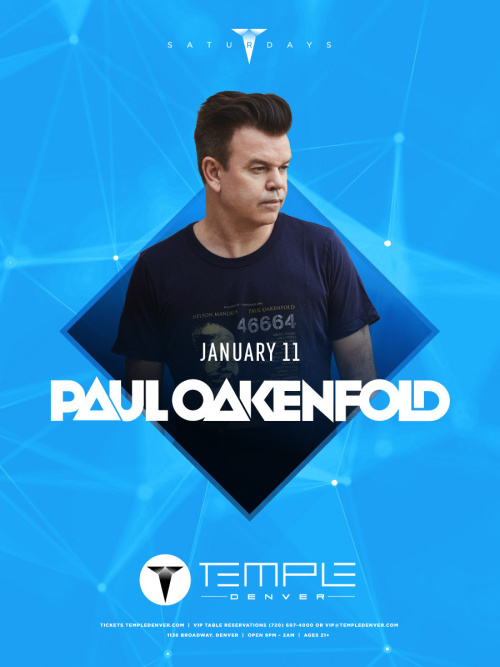 Saturday, Jan 11, 2020 @ 9:00pm
Paul Oakenfold
Event Description
Temple presents Paul Oakenfold
British DJ, producer, remixer, and label head Paul Oakenfold is inarguably one of the most important figures in the history of dance music, having done more to popularize the genre than anyone else. He was responsible for breaking house music to British clubbers during the late '80s, then took the genre aboveground, masterminding dance-minded productions and remixes by rock and pop stars such as Happy Mondays and U2. He also founded the highly successful dance label Perfecto Records, and held celebrated residencies at two of the biggest U.K. superclubs of all time, Ministry of Sound and Cream. Since the mid-'90s, he's been inextricably associated with trance, and mix CDs such as Tranceport (1998) and his two Global Underground volumes have remained some of the genre's biggest-selling releases. However, he has always maintained an eclectic approach to mixing, incorporating styles such as drum'n'bass, downtempo, and excerpts from film scores into his sets. As a producer, he's branched out into hip-hop, pop, and alternative rock on studio albums Bunkka (2002) and A Lively Mind (2006), and he's contributed music to numerous films, television programs, and video games. Long recognized as one of the world's most popular DJs, he has maintained a tireless work ethic well into the 21st century, constantly touring across the globe (including performances at landmarks such as the Great Wall of China, Mount Everest, and Stonehenge), releasing mixes such as Dreamstate, Vol. 1 (2017), and working with mega-stars such as Madonna, Cher, and Britney Spears.
Temple Nightclub is a venue for artists, by artists, offering a nightlife experience that is unrivaled in the Mile High region. Temple Denver features awe-inspiring, fully immersive state of the art lighting and visuals, to a thundering custom sound system, paired with world-class talent and theatrical production.
Temple is a 21+ nightclub experience.