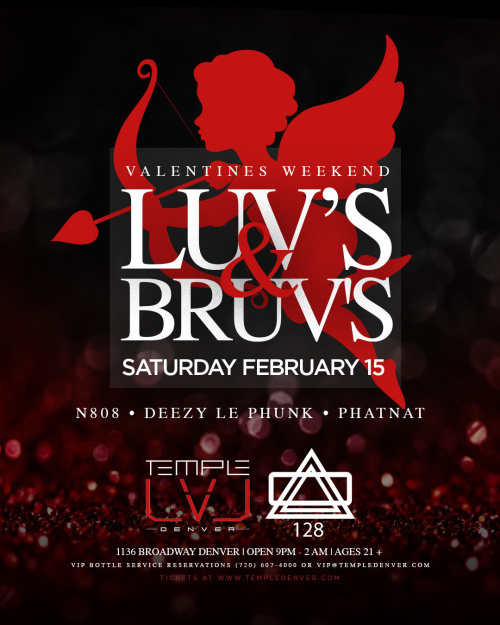 Saturday, Feb 15, 2020 @ 10:00pm
Luv's & Bruv's
Event Description
Temple presents Luv's & Bruv's at LVL
Been looking for that special someone? Maybe they were ELSEWHERE, maybe they were NOWHERE, but they're damn sure gonna be with us Feb 15th at Temple Denver for 128 Presents: "Luvs & Bruvs". Come celebrate being in love, come celebrate being single, or just come celebrate not having to worry about it at all. Either way, come celebrate with us!
LVL is located inside Temple, allowing guests to go back and forth between the 2 rooms for one ticket; an alternative atmosphere for guests who prefer to venture away from the main room sound.
This glowing geometric room creates an intimate setting which includes an immersive dance floor, nine bottle service tables, and a dynamic lighting display all while surrounded by Funktion-One sound system.
LVL in Temple is a 21+ nightclub experience.