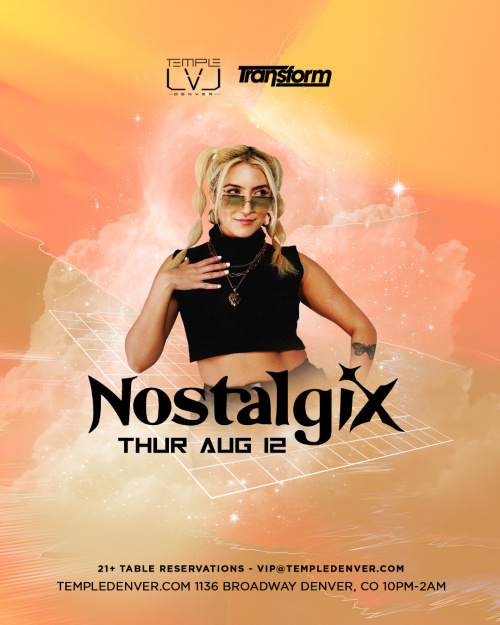 Thursday, Aug 12, 2021 @ 10:00pm
Nostalgix
Event Description
Nostalgix at Transform in LVL 
Nostalgix is taking the bass house scene by storm with her refreshing sounds, positive energy, and electrifying performances. Hailing from Iran, and raised in Canada, this producer flawlesslyexecutes everything she creates and exudes boss energy everywhere she goes. As a proudwoman in the music industry, this modern day 90's "it-girl" is on a mission to create a positive andloving environment within the dance music scene.
Staying true to her work ethic, Nostalgix did not let off the gas in 2020 as shesecured the cover of the Bassline Bangers Spotify playlist for two months in a row, and played high-powered stream sets for Insomniac, Deadbeats, Dim Mak, Night Bass, Monstercat, Proximity, and finally Contact Festival where she clocked in a massive 20k+ viewers. She also released her follow up EP with Night Bass that included her first ever music video for her single 'Act Out', and saw additional releases with Confession and Insomniac Recs.
TRANSFORM THURSDAYS  
Transform Thursdays is a weekly event curated by Temple Nightclub and Your EDM featuring up and coming talent in the dance community. Each week, this party will transform the usual club experience into a laid back, Denver community hangout with drink specials. Expect fun interactive themes, fresh local talent and the hottest up and coming names in the electronic spectrum - all genres welcome.  
Temple is a 21+ Venue