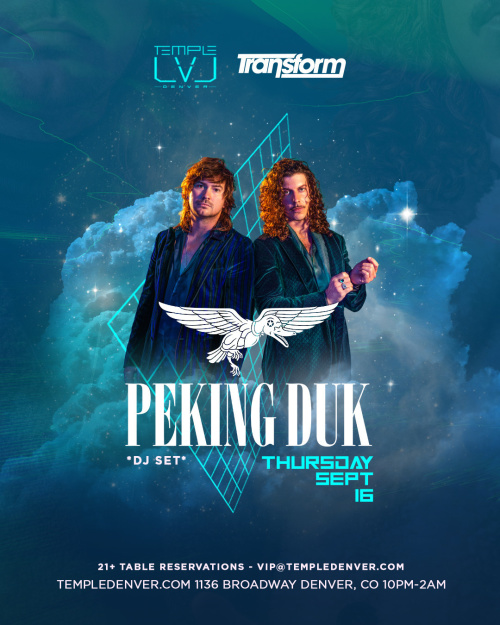 Thursday, Sep 16, 2021 @ 10:00pm
Peking Duk
Event Description
Peking Duk at Transform in LVL
Just in time for the grand re-opening of Australia's dance floors and festival stages, Peking Duk, the dance music duo made up of Canberra natives Adam Hyde and Reuben Styles, are back with brand new music that builds on their back catalogue of absolute bangers.
With a discography that features platinum single after platinum single –from the ARIA Award-winning, four-times platinum single 'High' (2014), which was the #1 mostplayed track on triple j that year while coming it at #2 in the Hottest 100, to the triple-platinum witching hour anthem 'Stranger' ft. Swedish artist Elliphant (2016), which won them another ARIA andhas since racked up over 50 million Spotify streams, and 'Fake Magic'(2017), featuring vocals by Aussie songstress Aluna George to 'Fire' (2018), the four-time platinum track that is, quite literally, pure fire –the Peking Duk boys have unabashedly earned themselves a reputation as Australia's most beloved,most bonkers electronic music act
The bootleg remixes they cut their teeth producing as teens (they burst onto the scene with a American indietronica band Passion Pit's hit single 'Take A Walk') have led the best mates to playing some of the biggest festival stages in Australia and around the world. But the best is yet to come: Their new music slaps just as hard as the hasty singles that caused us to fall in love with the Duks in the first place.
TRANSFORM THURSDAYS
Transform Thursdays is a weekly event curated by Temple Nightclub featuring up and coming talent in the dance community. Each week, this party will transform the usual club experience into a laid back, Denver community hangout with drink specials. Expect fresh local talent and the hottest up and coming names in the electronic spectrum - all genres welcome.