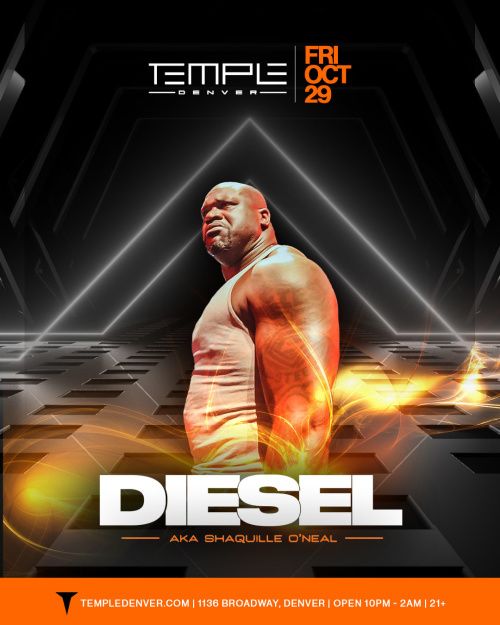 Friday, Oct 29, 2021 @ 10:00pm
Diesel
Event Description
Temple Denver presents Diesel
Shaquille O'Neal is one of the most dominant basketball players in NBA history and is now also one of the greatest entertainers on earth. At 7'1" and 325 pounds, Shaq's larger-than-life personality and powerful athleticism have resulted in worldwide admiration and one of the most passionate fan bases in sports and entertainment. The Hall of Famer first discovered electronic dance music after crashing the festival TomorrowWorld in 2014, a milestone event that changed his life forever after being exposed to DJ's such as Steve Aoki and Skrillex.
Shaquille has been passionate about music from a very young age -- at just 14 after O'Neal saw Public Enemy live for the first time, while sandwiched in a crowd of 5,000 people, he became fixated on DJ'ing. He cut his neighbors' grass, walked dogs, and scraped together any cash that he could until he saved up $200 to buy his first set of turntables at a local pawn shop. Fast forward to 1993, Shaquille's rap album, 'Shaq Diesel,' did the unthinkable of selling over a million copies and peaked at No. 25 on the Billboard 100 cementing O'Neal as the only athlete ever with a platinum-selling album. SHAQ aka DJ Diesel's dance music debut was at TomorrowWorld 2015, as the Hall of Famer took the stage for the first time in front of tens of thousands of fans mixing the best of Trap, EDM, and Hip-Hop. From there DJ Diesel's career was born as he cemented the title of 'the biggest DJ in the world.' DJ Diesel recently embarked on a 15+ date 'Summer of SHAQ' tour, has graced main stages around the globe from Tomorrowland, Lost Lands, Life in Color, and even launched his own festival series -- Shaq's Fun House.
ABOUT TEMPLE
Temple Nightclub is a venue for artists, by artists, offering a nightlife experience that is unrivaled in the Mile High region. Temple Denver features awe-inspiring, fully immersive state-of-the-art lighting and visuals, to a thundering custom sound system, paired with world-class talent and theatrical production.
Temple is a 21+ nightclub experience
For VIP, email [email protected]